Preservation Officer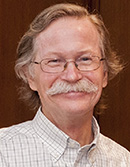 233 Perkins Library
Box 90191
Durham
,
NC
27708-0189
Phone: +1-919-660-5843
Departments
A research library has the responsibility of making its resources available to future researchers, not just those using our collections today. Winston provides leadership and directs resources to enable the Duke University Libraries to create and preserve our digital, print and paper, and audio-visual resources for these researchers. Recent highlights have included co-developing a project to digitize recordings of early twentieth century North Carolina folk music, helping establish proper environmental conditions for the Rubenstein Library, and national efforts certifying digital repositories.

Prior to establishing the Libraries' preservation program in March 2000, Winston also started the NC State University Libraries' preservation program (1995). He served as Preservation Librarian (Assistant Department Head) for Yale University Libraries and as Librarian and Editor of Publications for the San Jacinto Museum of History (Houston, TX). Winston attended the University of North Carolina-Chapel Hill, graduating with a BA (Journalism/Psychology) and an MS in Library Science. Additional graduate work at The University of Texas at Austin concentrated on preservation administration and the history of printing and papermaking technologies.