Librarian for Film, Video, & Digital Media and Women's Studies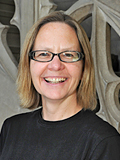 1348 Campus Drive
Box 90725
Durham
,
NC
27708-0725
Phone: +1-919-660-5886
Fax: +1 919 660 5999
Departments
Danette Pachtner is Duke University Libraries' Librarian for Film, Video & Digital Media and Women's Studies. She's based in Lilly Library on East Campus. If there's a movie you'd like to see added to the collection, just let her know. Danette is a native of San Francisco, California. She graduated from Wesleyan University in Connecticut, with a B.A. in Russian Language & Literature and Theatre Studies. She earned her Masters of Library Science degree from UCLA. She now lives near campus in a lovely house in the Duke Forest.