Librarian for Visual Studies and Dance, Lilly Library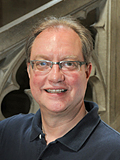 Box 90727
Durham
,
NC
27708-0727
Phone: +1-919-660-5994
Fax: +1 919 660 5999
Departments
Resource specialist for the Visual Studies (art, photography, material culture and museology) and Dance.
Lee Sorensen received his graduate degrees in art history and library science both from The University of Chicago. His articles include "Art Bibliographies: A Survey of their Development, 1595-1821" Library Quarterly 56 (January 1986): 31-55 and the entries on "Art Catalogs and Cataloging" in the online Oxford Dictionary of Art. A consultant for the arts in biographical dictionaries, including the Cambridge Dictionary of American Biography, he has been on the advisory board for Oxford University Press' Dictionary of Art since 2004. Twice an executive board member of the Art Libraries Society of North America, he also served as that society's web administrator during the years of its inception. In 1996 he founded the Dictionary of Art Historians, www.dictionaryofarthistorians.org which he continues to edit. For more than twenty years he has been art and visual studies specialist for Duke University Libraries selecting electronic and print materials for the University Library.