News, Events, and Exhibits from Duke University Libraries
Updated: 1 hour 4 min ago
Happy holidays! For those of you who have left campus, don't forget that you can take the library home with you! All the titles listed below – a mix of ebooks and audiobooks – are currently available to borrow immediately from our Overdrive collection.
If you're on campus, come relax and browse our New and Noteworthy and Current Literature collections, borrow movies from Lilly, and borrow CDs from the Music Library.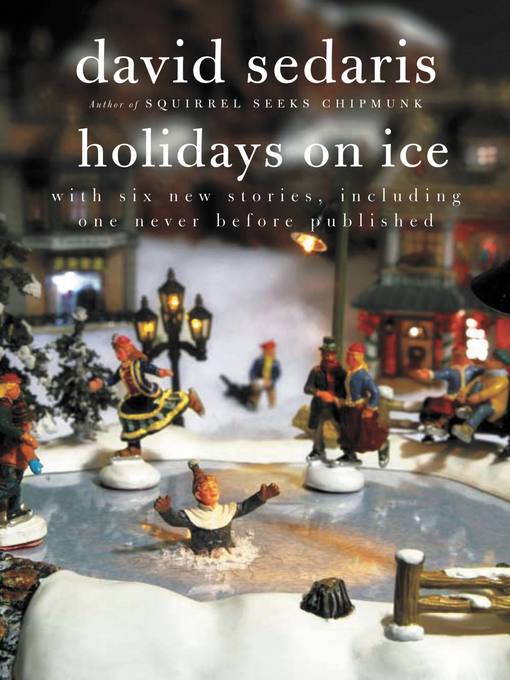 Holidays on Ice by David Sedaris. E-book.
David Sedaris's beloved holiday collection is new again with six more pieces, including a never before published story. Along with such favoritesas the diaries of a Macy's elf and the annals of two very competitive families, are Sedaris's tales of tardy trick-or-treaters ("Us and Them"); the difficulties of explaining the Easter Bunny to the French ("Jesus Shaves"); what to do when you've been locked out in a snowstorm ("Let It Snow"); the puzzling Christmas traditions of other nations ("Six to Eight Black Men"); what Halloween at the medical examiner's looks like ("The Monster Mash"); and a barnyard secret Santa scheme gone awry ("Cow and Turkey").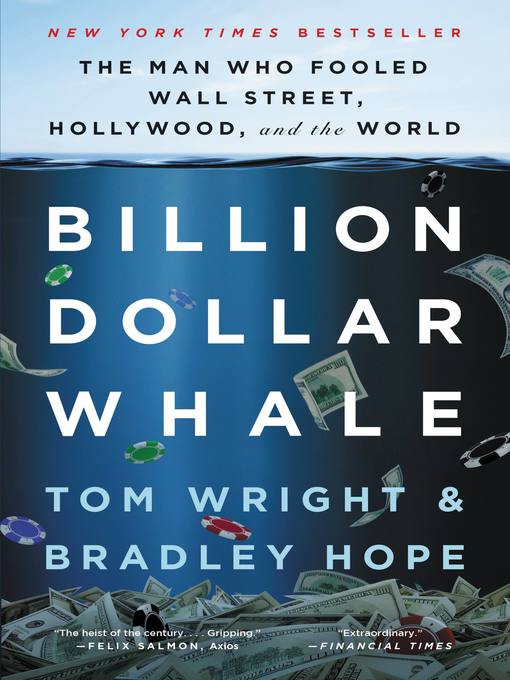 Billion Dollar Whale: The Man Who Fooled Wall Sreet, Hollywood, and the World by Tom Wright and Bradley Hope. E-book.
In 2009, a chubby, mild-mannered graduate of the University of Pennsylvania's Wharton School of Business named Jho Low set in motion a fraud of unprecedented gall and magnitude—one that would come to symbolize the next great threat to the global financial system. Over a decade, Low, with the aid of Goldman Sachs and others, siphoned billions of dollars from an investment fund—right under the nose of global financial industry watchdogs. Low used the money to finance elections, purchase luxury real estate, throw champagne-drenched parties, and even to finance Hollywood films like The Wolf of Wall Street.
By early 2019, with his yacht and private jet reportedly seized by authorities and facing criminal charges in Malaysia and in the United States, Low had become an international fugitive, even as the U.S. Department of Justice continued its investigation.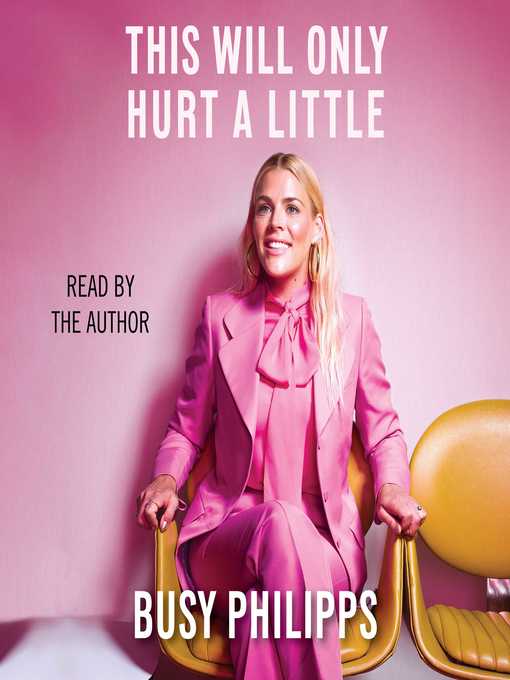 This Will Only Hurt a Little by Busy Philipps. Audiobook.
There's no stopping Busy Philipps. From the time she was two and "aced out in her nudes" to explore the neighborhood (as her mom famously described her toddler jailbreak), Busy has always been headstrong, defiant, and determined not to miss out on all the fun. These qualities led her to leave Scottsdale, Arizona, at the age of nineteen to pursue her passion for acting in Hollywood. But much like her painful and painfully funny teenage years, chasing her dreams wasn't always easy and sometimes hurt more than a little.
In a memoir "that often reads like a Real World confessional or an open diary" (Kirkus Reviews), Busy opens up about chafing against a sexist system rife with on-set bullying and body shaming, being there when friends face shattering loss, enduring devastating personal and professional betrayals from those she loved best, and struggling with postpartum anxiety and the challenges of motherhood.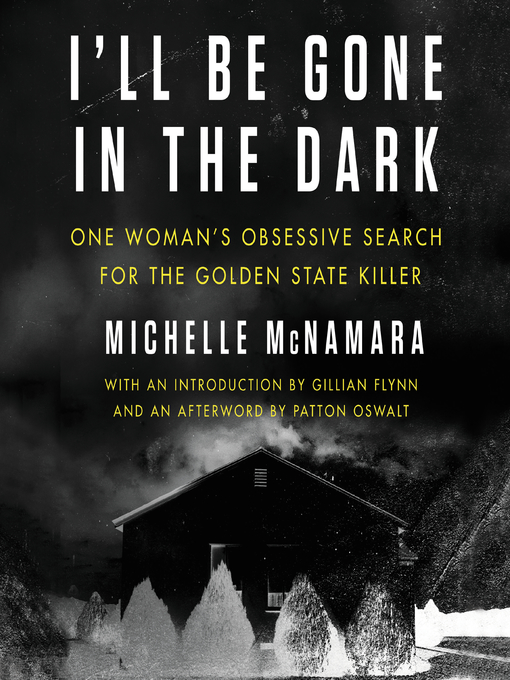 I'll Be Gone in the Dark: One Woman's Obsessive Search for the Golden State Killer by Michelle McNamara. Audiobook.
For more than ten years, a mysterious and violent predator committed fifty sexual assaults in Northern California before moving south, where he perpetrated ten sadistic murders. Then he disappeared, eluding capture by multiple police forces and some of the best detectives in the area.
Three decades later, Michelle McNamara, a true crime journalist who created the popular website TrueCrimeDiary.com, was determined to find the violent psychopath she called "the Golden State Killer." Michelle pored over police reports, interviewed victims, and embedded herself in the online communities that were as obsessed with the case as she was.
I'll Be Gone in the Dark — the masterpiece McNamara was writing at the time of her sudden death — offers an atmospheric snapshot of a moment in American history and a chilling account of a criminal mastermind and the wreckage he left behind. It is also a portrait of a woman's obsession and her unflagging pursuit of the truth. Utterly original and compelling, it is destined to become a true crime classic — and may at last unmask the Golden State Killer. Soon to be an HBO® Documentary Series.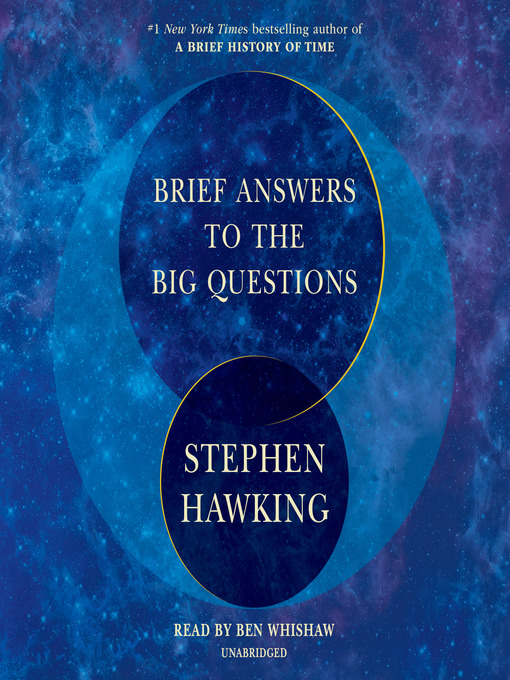 Brief Answers to the Big Questions by Stephen Hawking. Audiobook.
Stephen Hawking was the most renowned scientist since Einstein, known both for his groundbreaking work in physics and cosmology and for his mischievous sense of humor. He educated millions of readers about the origins of the universe and the nature of black holes, and inspired millions more by defying a terrifying early prognosis of ALS, which originally gave him only two years to live. In later life he could communicate only by using a few facial muscles, but he continued to advance his field and serve as a revered voice on social and humanitarian issues.
Hawking not only unraveled some of the universe's greatest mysteries but also believed science plays a critical role in fixing problems here on Earth. Now, as we face immense challenges on our planet—including climate change, the threat of nuclear war, and the development of artificial intelligence—he turns his attention to the most urgent issues facing us.
Will humanity survive? Should we colonize space? Does God exist? ​​These are just a few of the questions Hawking addresses in this wide-ranging, passionately argued final book from one of the greatest minds in history.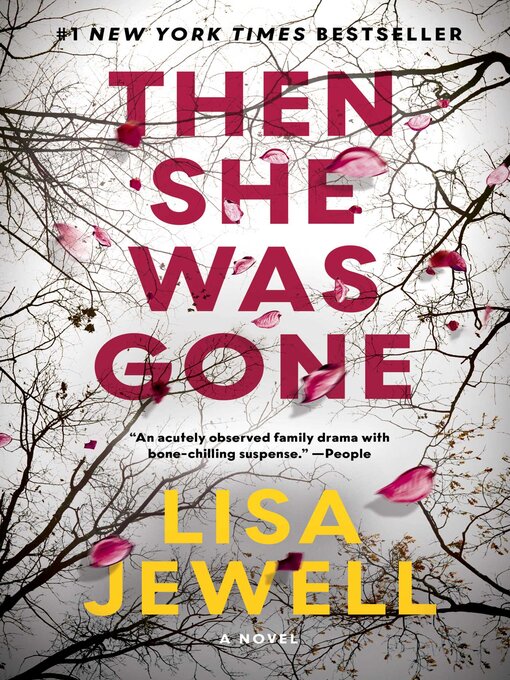 Then She Was Gone by Lisa Jewell. E-book.
Ellie Mack was the perfect daughter. She was fifteen, the youngest of three. She was beloved by her parents, friends, and teachers. She and her boyfriend made a teenaged golden couple. She was days away from an idyllic post-exams summer vacation, with her whole life ahead of her.
And then she was gone.
Now, her mother Laurel Mack is trying to put her life back together. It's been ten years since her daughter disappeared, seven years since her marriage ended, and only months since the last clue in Ellie's case was unearthed. So when she meets an unexpectedly charming man in a café, no one is more surprised than Laurel at how quickly their flirtation develops into something deeper. Before she knows it, she's meeting Floyd's daughters — and his youngest, Poppy, takes Laurel's breath away.
Because looking at Poppy is like looking at Ellie. And now, the unanswered questions she's tried so hard to put to rest begin to haunt Laurel anew. Where did Ellie go? Did she really run away from home, as the police have long suspected, or was there a more sinister reason for her disappearance? Who is Floyd, really? And why does his daughter remind Laurel so viscerally of her own missing girl?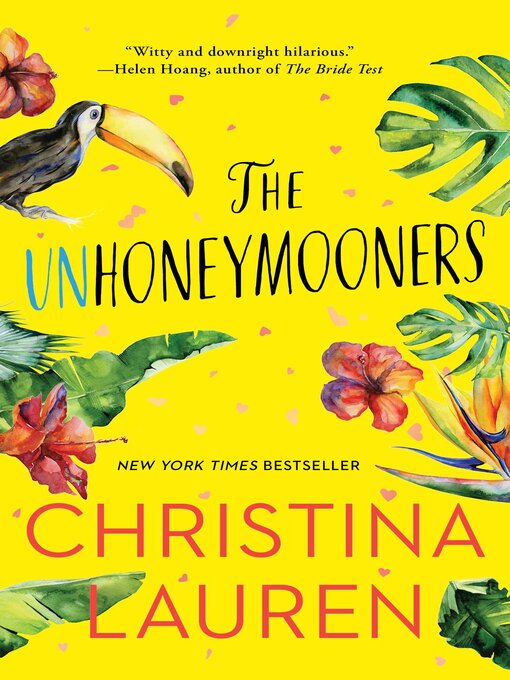 The Unhoneymooners by Christina Lauren. E-book.
Olive Torres is used to being the unlucky twin: from inexplicable mishaps to a recent layoff, her life seems to be almost comically jinxed. By contrast, her sister Ami is an eternal champion…she even managed to finance her entire wedding by winning a slew of contests. Unfortunately for Olive, the only thing worse than constant bad luck is having to spend the wedding day with the best man (and her nemesis), Ethan Thomas.
Olive braces herself for wedding hell, determined to put on a brave face, but when the entire wedding party gets food poisoning, the only people who aren't affected are Olive and Ethan. Suddenly there's a free honeymoon up for grabs, and Olive will be damned if Ethan gets to enjoy paradise solo.
Agreeing to a temporary truce, the pair head for Maui. After all, ten days of bliss is worth having to assume the role of loving newlyweds, right? But the weird thing is…Olive doesn't mind playing pretend. In fact, the more she pretends to be the luckiest woman alive, the more it feels like she might be.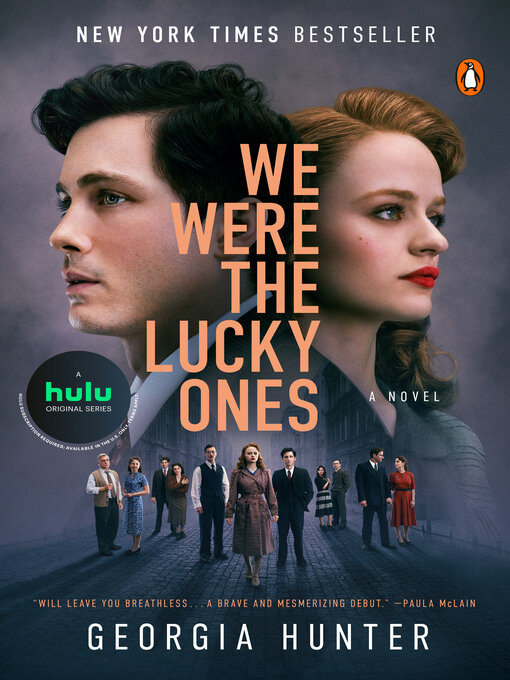 We Were the Lucky Ones by Georgia Hunter. E-book.
It is the spring of 1939 and three generations of the Kurc family are doing their best to live normal lives, even as the shadow of war grows closer. The talk around the family Seder table is of new babies and budding romance, not of the increasing hardships threatening Jews in their hometown of Radom, Poland. But soon the horrors overtaking Europe will become inescapable and the Kurcs will be flung to the far corners of the world, each desperately trying to navigate his or her own path to safety.
As one sibling is forced into exile, another attempts to flee the continent, while others struggle to escape certain death, either by working grueling hours on empty stomachs in the factories of the ghetto or by hiding as gentiles in plain sight. Driven by an unwavering will to survive and by the fear that they may never see one another again, the Kurcs must rely on hope, ingenuity, and inner strength to persevere.
An extraordinary, propulsive novel, We Were the Lucky Ones demonstrates how in the face of the twentieth century's darkest moment, the human spirit can endure and even thrive.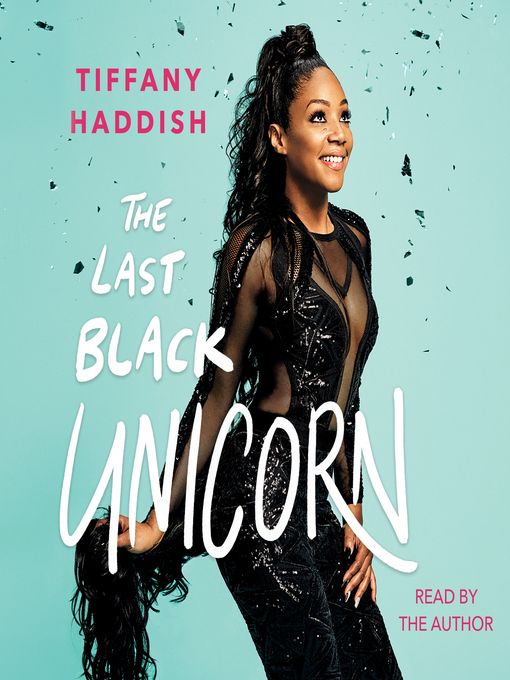 The Last Black Unicorn by Tiffany Haddish. Audiobook.
Growing up in one of the poorest neighborhoods of South Central Los Angeles, Tiffany learned to survive by making people laugh. If she could do that, then her classmates would let her copy their homework, the other foster kids she lived with wouldn't beat her up, and she might even get a boyfriend. Or at least she could make enough money — as the paid school mascot and in-demand Bar Mitzvah hype woman — to get her hair and nails done, so then she might get a boyfriend.
None of that worked (and she's still single), but it allowed Tiffany to imagine a place for herself where she could do something she loved for a living: comedy.
Tiffany can't avoid being funny — it's just who she is, whether she's plotting shocking, jaw-dropping revenge on an ex-boyfriend or learning how to handle her newfound fame despite still having a broke person's mind-set. Finally poised to become a household name, she recounts with heart and humor how she came from nothing and nowhere to achieve her dreams by owning, sharing, and using her pain to heal others.
By turns hilarious, filthy, and brutally honest, The Last Black Unicorn shows the world who Tiffany Haddish really is – humble, grateful, down-to-earth, and funny as hell. And now, she's ready to inspire others through the power of laughter.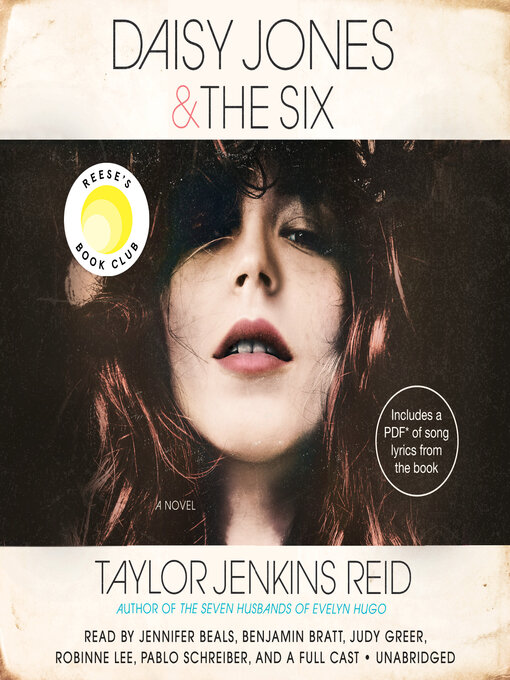 Daisy Jones & The Six by Taylor Jenkins Reid. Audiobook.
Everyone knows Daisy Jones & The Six, but nobody knows the reason behind their split at the absolute height of their popularity…until now.
Daisy is a girl coming of age in L.A. in the late sixties, sneaking into clubs on the Sunset Strip, sleeping with rock stars, and dreaming of singing at the Whisky a Go Go. The sex and drugs are thrilling, but it's the rock 'n' roll she loves most. By the time she's twenty, her voice is getting noticed, and she has the kind of heedless beauty that makes people do crazy things.
Also getting noticed is The Six, a band led by the brooding Billy Dunne. On the eve of their first tour, his girlfriend Camila finds out she's pregnant, and with the pressure of impending fatherhood and fame, Billy goes a little wild on the road.
Daisy and Billy cross paths when a producer realizes that the key to supercharged success is to put the two together. What happens next will become the stuff of legend.
The making of that legend is chronicled in this riveting and unforgettable novel, written as an oral history of one of the biggest bands of the seventies. Taylor Jenkins Reid is a talented writer who takes her work to a new level with Daisy Jones & The Six, brilliantly capturing a place and time in an utterly distinctive voice.
Includes a PDF of song lyrics from the book.
The post What to Read This Month – Holiday Edition appeared first on Duke University Libraries Blogs.
In honor of Martin Luther King's vision and in support of our local community, the Duke University Libraries are running a children's book drive through January 10, 2020.
The books we collect will be donated to Book Harvest, a North Carolina nonprofit that believes in the power of books to change children's lives and works to ensure that all children can grow up in book-rich homes. Since it was launched in 2011, Book Harvest has provided more than one million donated books to children throughout North Carolina.
We need new and gently used books for children of all ages, especially board books and picture books for the youngest readers, as well as Spanish and bilingual books, and books with diverse characters and story lines. Even one book can make a difference in a child's life.
Look for the book collection bins in the following locations, and please help us fill them!
Perkins Library, in the lobby across from the von der Heyden Pavilion
Perkins Library, Shipping and Receiving (near the Link)
Rubenstein Library, Library Administration Suite (2nd Floor)
Lilly Library, main lobby
Smith Warehouse, Bay 10, Shipping and Receiving
Don't have books but want to donate? Visit Book Harvest's Amazon wish list. You are also invited to volunteer for the MLK "Dream Big" community drive and to attend the 2020 celebration!
Learn more about Book Harvest on their website.
The post Donate Children's Books to Book Harvest appeared first on Duke University Libraries Blogs.
This month's Collection Spotlight is all about chocolate!  We have titles covering a diverse range of themes, including history, romance, food, feminism, and even some movies.  Here are some examples of what you can find:
Chocolate, Women and Empire: A Social and Cultural History
Chocolate Wars: The 150-year Rivalry between the World's Greatest Chocolate Makers
Willy Wonka & the Chocolate Factory
Do you suddenly find yourself craving chocolate?  Then take a look at the Collection Spotlight rack near our Perkins Library Service Desk on the first floor of Perkins!  We'll even have chocolate out most of the time, so you can really satisfy that sweet tooth!
The post Collection Spotlight: Chocolate, Enough Said appeared first on Duke University Libraries Blogs.
As you are preparing for your much needed break, I hope you remember that the library will still be here for you!  Maybe you already know that you can access many of our online resources from home or that you can check out books to take home with you.  We also have movies and music that you can stream and some e-books that you can download to your devices.  Here are some of the resources we have to do this!
Streaming Videos
Alexander Street Video Collection: Find and watch streaming video across multiple Alexander Street Press video collections on diverse topics that include newsreels, documentaries, field recordings, interviews and lectures.
Docuseek2 Collection: Find and watch streaming video of documentary and social issues films.
Films on Demand: Find and watch streaming video with academic, vocational, and life-skills content.
Kanopy: Watch thousands of award-winning documentaries and feature films including titles from the Criterion Collection.
SWANK Digital Campus: Feature films from major Hollywood studios.
Go to bit.ly/dukevideos to access these video collections.
Streaming Music
Contemporary World Music: Listen to music from around the world, including reggae, Bollywood, fado, American folk music, and more.
Jazz Music Library:  Access a wide range of recordings from jazz classics to contemporary jazz.
Medici.tv: Browse an online collection of classical music, operas and ballets.
Metropolitan Opera on Demand:  For opera fans, a large selection of opera videos from the stage of the Metropolitan Opera.
Naxos Music Library:  Huge selection of classical music recordings—over 1,925,000 tracks!
Smithsonian Global Sound: Find and listen to streaming folk and related music
All of these streaming music sources can be accessed at library.duke.edu/music/resources/listening-online
Overdrive Books
Go to duke.overdrive.com to access downloadable eBooks and audiobooks that can be enjoyed on all major computers and devices, including iPhones®, iPads®, Nooks®, Android

phones and tablets, and Kindles®.
The post Take the Library Home with You appeared first on Duke University Libraries Blogs.
The Stampede of Love Returns to Lilly
Kiwi and Librarians in 2018 Have you heard about the "mane" event at Lilly Library?
Where did Fall Semester go? December is here, and with it, exams await all Duke Students. Because the First-Year students live on East Campus, the staff at Lilly Library does its best to offer support and relieve the stress of the fall semester for our "neighbors" experiencing their first finals at Duke. Extending our hours to a 24/7 schedule during exams, offering a study break with refreshments, and a room reserved as a relaxation station are longstanding Lilly traditions.
The end of Fall Semester 2019 is different, a horse of a different color, so to speak! On Saturday, December 7th from noon until 2pm, we are hosting our second visit with the Stampede of Love, miniature therapy horses whose tiny hooves will bring smiles to stressed students (and maybe a librarian or two!). If you decide to trot over to East Campus, here is a list of useful dates and events:
Lilly Library Finals Week Events
Saturday, December 7th at noon until 2pm: Stampede of Love
Lilly Library event details HERE
Saturday, December 7th:
Beginning at 9am, Lilly expands its schedule to 24/7 through the examination period, ending at 7pm on Monday, December 16th.
Details at Duke Library Hours
Monday, December 9th at 8pm:
Lilly Study Break for Students Details here
Wednesday, December 11th at 8am  throughout finals:
Relaxation Station in Lilly opens for students
Best of luck to everyone during Finals!
Kiwi of the Stampede of Love
Straight from the horse's mouth:
It's been a great Fall Semester, and here's to a very Happy 2020!
The post Get Ready for Finals with the Stampede of Love at Lilly! appeared first on Duke University Libraries Blogs.
Looking for an easy way to help people this holiday season?
From November 15 – December 15, you can exchange "Food for Fines" at the Duke library nearest you.
For every unopened, unexpired, non-perishable food item you donate, we will waive $1 of your library fines (up to $50 max).
All libraries on East and West Campus are participating except for the Duke Law Library, and it doesn't matter which library you owe fines to. You can drop off your donation at the library of your choice, and we'll apply it to any library fines at any Duke library.
Donations will be collected and distributed by the Food Bank of Central and Eastern NC. The Food Bank serves a network of more than 800 agencies across 34 counties in Central and Eastern North Carolina, including soup kitchens, food pantries, shelters, and programs for children and adults.
You can also donate non-food essentials for infants, kids, and seniors, such as diapers, wipes, cleaning products, and paper towels. The chart below lists the items currently needed most.
No library fines? No problem! You can still donate and help North Carolinians in need.
The fine print
Limit $50 in forgiven fines per person.
Any fines already paid or transferred to the bursar cannot be waived.
No expired food items or glass containers, please.
Waived fines only apply to late fees. Charges for damaged or lost books cannot be waived.
All Duke libraries will waive fines for other Duke libraries (except the Duke Law Library). For example, if you owe $5 to the Divinity Library, you are not required to drop off your donation at the Divinity Library. You can visit any library on East or West Campus and your Divinity Library fines will be waived.
The post Got Library Fines? Give Food and We'll Waive Them appeared first on Duke University Libraries Blogs.
Happy Halloween! Don't forget to set your clock back this Sunday, November 2. As always, for more exciting reads, check out our Overdrive, New and Noteworthy, and Current Literature collections.
Beneath the Mountain by Luca D'Andrea; translated from the Italian by Howard Curtis.
In Luca D'Andrea's atmospheric and brilliant thriller, set in a small mountain community in the majestic Italian Dolomites, an outsider must uncover the truth about a triple murder that has gone unsolved for thirty years.
New York City native Jeremiah Salinger is one half of a hot-shot documentary-making team. He and his partner, Mike, made a reality show about roadies that skyrocketed them to fame. But now Salinger's left that all behind, to move with his wife, Annelise, and young daughter, Clara, to the remote part of Italy where Annelise grew up – the Alto Adige.
Nestled in the Dolomites, this breathtaking, rural region that was once part of the Austro-Hungarian Empire remains more Austro than Italian. Locals speak a strange, ancient dialect – Ladino – and root for Germany (against Italy) in the world cup. Annelise's small town – Siebenhoch – is close-knit to say the least and does not take kindly to out-of-towners. When Salinger decides to make a documentary about the mountain rescue group, the mission goes horribly awry, leaving him the only survivor. He blames himself, and so, it seems, does everyone else in Siebenhoch. Spiraling into a deep depression, he begins having terrible, recurrent nightmares. Only his little girl Clara can put a smile on his face.
But when he takes Clara to the Bletterbach Gorge – a canyon rich in fossil remains – he accidentally overhears a conversation that gives his life renewed focus. In 1985, three students were murdered there, their bodies savaged, limbs severed and strewn by a killer who was never found. Although Salinger knows this is a tightlipped community, one where he is definitely persona non grata, he becomes obsessed with solving this mystery and is convinced it is all that can keep him sane. And as Salinger unearths the long kept secrets of this small town, one by one, the terrifying truth is eventually revealed about the horrifying crime that marked an entire village.
Completely engrossing and deeply atmospheric, Beneath The Mountain is a thriller par excellence.
Antisemitism: Here and Now by Deborah E. Lipstadt.
The award-winning author of The Eichmann Trial and Denial: Holocaust History on Trial gives us a penetrating and provocative analysis of the hate that will not die, focusing on its current, virulent incarnations on both the political right and left: from white supremacist demonstrators in Charlottesville, Virginia, to mainstream enablers of antisemitism such as Donald Trump and Jeremy Corbyn, to a gay pride march in Chicago that expelled a group of women for carrying a Star of David banner.
Over the last decade there has been a noticeable uptick in antisemitic rhetoric and incidents by left-wing groups targeting Jewish students and Jewish organizations on American college campuses. And the reemergence of the white nationalist movement in America, complete with Nazi slogans and imagery, has been reminiscent of the horrific fascist displays of the 1930s. Throughout Europe, Jews have been attacked by terrorists, and some have been murdered.
Where is all this hatred coming from? Is there any significant difference between left-wing and right-wing antisemitism? What role has the anti-Zionist movement played? And what can be done to combat the latest manifestations of an ancient hatred? In a series of letters to an imagined college student and imagined colleague, both of whom are perplexed by this resurgence, acclaimed historian Deborah Lipstadt gives us her own superbly reasoned, brilliantly argued, and certain to be controversial responses to these troubling questions.
Midwestern Strange: Hunting Monsters, Martians, and the Weird in Flyover Country by B.J. Hollars.
Midwestern Strange chronicles B.J. Hollars's exploration of the mythic, lesser-known oddities of flyover country. The mysteries, ranging from bipedal wolf sightings to run-ins with pancake-flipping space aliens to a lumberjack-inspired "Hodag hoax," make this book a little bit X-Files, a little bit Ghostbusters, and a whole lot of Sherlock Holmes . Hollars's quest is not to confirm or debunk these mysteries but rather to seek out these unexplained phenomena to understand how they complicate our worldview and to discover what truths might be gleaned by reexamining the facts in our "post-truth" era.
Part memoir and part journalism, Midwestern Strange offers a fascinating, funny, and quirky account of flyover folklore that also contends with the ways such oddities retain cultural footholds. Hollars shows how grappling with such subjects might fortify us against the glut of misinformation now inundating our lives. By confronting monsters, Martians, and a cabinet of curiosities, we challenge ourselves to look beyond our presumptions and acknowledge that just because something is weird, doesn't mean it is wrong.
Ageing and Contemporary Female Musicians by Abigail Gardner.
Ageing and Contemporary Female Musicians focuses on ageing within contemporary popular music. It argues that context, genres, memoirs, racial politics and place all contribute to how women are 'aged' in popular music.
Framing contemporary female musicians as canonical grandmothers, Rude Girls, neo-Afrofuturist and memoirists settling accounts, the book gives us some respite from a decline or denial narrative and introduces a dynamism into ageing. Female rock memoirs are age-appropriate survival stories that reframe the histories of punk and independent rock music. Old age has a functional and canonical 'place' in the work of Shirley Collins and Calypso Rose.
Janelle Monáe, Christine and the Queens, and Anohni perform 'queer' age, specifically a kind of 'going beyond' both corporeal and temporal borders. Genres age, and the book introduces the idea of the time-crunch; an encounter between an embodied, represented age and a genre-age, which is, itself, produced through historicity and aesthetics. Lastly the book goes behind the scenes to draw on interviews and questionnaires with 19 women involved in the contemporary British and American popular music industry; DIY and ex-musicians, producers, music publishers, music journalists and audio engineers.
Ageing and Contemporary Female Musicians is a vital intergenerational feminist viewpoint for researchers and students in gender studies, popular music, popular culture, media studies, cultural studies and ageing studies.
The Genius Within: Unlocking Our Brain's Potential by David Adam.
What if you have more intelligence than you realize? What if there is a genius inside you, just waiting to be released? And what if the route to better brain power is not hard work or thousands of hours of practice but to simply swallow a pill? In The Genius Within, David Adam explores the groundbreaking neuroscience of cognitive enhancement that is changing the way the brain and the mind works – to make it better, sharper, more focused and, yes, more intelligent. He considers how we measure and judge intelligence, taking us on a fascinating tour of the history of brain science and medicine, from gentlemen scientist brain autopsy clubs to case studies of mental health patients with extraordinary savant abilities. In addition to reporting on the latest research and fascinating case studies, David also goes on his own personal journey to investigate the possibilities of neuroenhancement, using himself as a guinea pig for smart pills and electrical brain stimulation in order to improve his IQ scores and cheat his way into MENSA. Getting to the heart of how we think about intelligence and mental ability, The Genius Within plunges into deep ethical, neuroscientific, and historical pools of enquiry about the science of brain function, untapping potential, and what it means for all of us. The Genius Within asks difficult questions about the science that could rank and define us, and inevitably shape our future.
The post What to Read this Month: October 2019 appeared first on Duke University Libraries Blogs.
Every year the Duke University Libraries run a series of essay contests recognizing the original research of Duke students and encouraging the use of library resources. We are pleased to announce the winners of our 2018-2019 library writing and research awards.
Lowell Aptman Prize
Recognizing excellence in undergraduate research using sources from the Libraries' general collections.
First/Second-Year Prize: Veronica Niamba for "The Day Man Stood Still," nominated by Gray Kidd
Third/Fourth-Year Prize: Jess Chen for "Post-Modern Folk Chronicler," nominated by Dr. Paul Jaskot
Honor Thesis Prize: Jack Bradford for "Errand into the Water Closet," nominated by Dr. Tom Ferraro
Chester P. Middlesworth Award
Recognizing excellence of analysis, research, and writing in the use of primary sources and rare materials held by the Rubenstein Rare Book & Manuscript Library.

Undergraduate Prize: Sierra Lorenzini for "Fair Haired: Considering Blonde Women in Film and Advertising," nominated by Dr. Kristine Stiles
Graduate Prize: Michael Freeman for "P. Duke Inv. 664R: A Fragmentary Alchemical Handbook," nominated by Dr. Jennifer Knust
Ole R. Holsti Prize
Recognizing excellence in undergraduate research using primary sources for political science or public policy.

Amanda Sear for "To Smoke or to Vape? E-cigarette Regulation in the US, the UK, and Canada," nominated by Dr. Ed Balleisen
Yue Zhou for "Learning Languages in Cyberspace: A Case Study of World Languages Courses in State Virtual Public Schools," nominated by Dr. Leslie Babinski
Rudolph William Rosati Creative Writing Award
Recognizing outstanding undergraduate creative writing.

Valerie Muensterman for "Did You Forget Your Name?"
Caroline Waring for "The Roof"
Blaire Zhang for "Sapiens"
Join Us at the Awards Reception!
We will be celebrating our winners and their achievements at a special awards reception coinciding with Duke Family Weekend.  All are invited to join us for refreshments and the opportunity to honor the recipients.
Date: Friday, October 25
Time: 4:00-5:00 p.m.
Location: Rubenstein Library 349 (Breedlove Conference Room)
The post Congratulations to Our 2019 Library Writing and Research Award Winners! appeared first on Duke University Libraries Blogs.